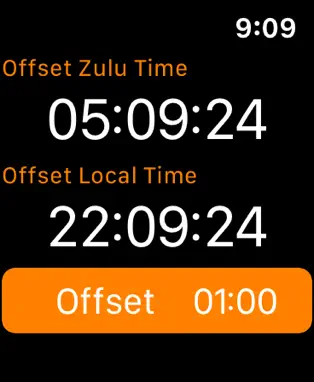 (Quelle: iPad Pilot News) 6 min read
The Apple Watch has come a long way since the first version was released over seven years ago. The latest models feature a much faster processor for speedier operation, an always-on screen, an internal GPS, and optional cellular data connectivity so you can use all the features without the need to take your iPhone everywhere you go.
Built-in features
Apple released several new Apple Watch models at their recent iPhone 15 event, including the Apple Watch Series 9 and the Apple Watch Ultra 2. These models, along with the original Apple Watch Ultra and Series 8 from last year, include a blood oxygen sensor, making them a great resource for pilots,
We've been flying with the Apple Watch since it first launched and it's become increasingly useful every year for both preflight weather checks and as an in-cockpit resource. Out of the box, the GPS, compass, and O2 sensor in the latest model provide valuable information to pilots.
The included timer app is easy to use and sets itself apart from other physical or iPad app timers you might have in the cockpit since it vibrates your on wrist when the time is up. We also really like GMT watch face option, which uses a separate red hand to show the current Zulu hour.
There's also a built-in flashlight feature, accessible from the Control Center on Apple Watch. Press the side button once and select the flashlight icon, which will set the screen to full white and provide a subtle, but useful amount of light when flying at night. Swipe from right to left a few times to change the color to red.
Aviation apps
To further increase the usefulness of your watch in the cockpit, many aviation developers offer Apple Watch apps along with their primary iPad/iPhone app, allowing you to access bite-size pieces of aviation data from your wrist. There are two ways to install one of these apps on your Apple Watch:
Download an app that supports Apple Watch features to your iPhone (the watch isn't compatible with iPad). Open the Apple Watch app on your iPhone and use the "My Watch" button at the bottom of the screen to select the apps you'd like to install on your watch (here are more detailed instructions).
Go to the App Store on your watch and search for the app name to install it directly from the app store.
Many of the aviation apps featured here offer support for the watch's "complication" feature, which allow you to add individual data points to your custom watch faces. For example, you could remove the display of stock market status and a music shortcut, and replace it with a the current wind report or shortcut to a radar screen from the Windy app:
Here's a list of our favorite aviation Apple Watch apps to get you started.
Aithre Connect This health and oxygen monitoring app allows you to view the vitals of your compatible pulse oximeter, portable oxygen tank monitor, and carbon monoxide detector (learn more about Aithre's aviation monitoring products here). Get the watch app here.
Altimeter+ Display an altimeter flight instrument on your watch. You can choose to use the barometer, GPS, or ASTER calculations as the source to determine altitude. Get the watch app here.
Aviation Altimeter for Watch This altimeter watch app goes beyond the basics and includes altitude alerting features, along with an oxygen alarm to remind you haptically and visually when you exceed 12,500 ft. Get the watch app here.
Civil Twilight for Watch This simple app automatically calculates the times for civil twilight and sunset/sunrise based on your locations, so you know when to turn on the nav lights or legally log night flying. You can also add data from this app as a complication to a custom watch face. Get the watch app here.
Cloud Map Quickly check any of the 120 NOAA weather station satellite images for visible cloud cover. When on the go, you can use the GPS feature to find the nearest weather station image. Get the watch app here.
FlightRadar24 Turn your Apple Watch into an air traffic radar and see a listing of nearby airplanes, including relative location, flight details and position on the map. Get the watch app here.
ForeFlight This well-designed app displays airport weather, NOTAMs, communication frequencies, runway information and more. It also includes complications to show the current ceiling or surface winds for a favorite airport (read our full review of the ForeFlight Watch app here). Get the watch app here.
METARs Aviation Weather This is dedicated to organizing and displaying the latest METARs for selected airports. Get the watch app here.
MiraCheck CoPilot  This app provides smart checklist functionality for iPhone and iPad that you control with your voice. The companion Watch app provides an alternate means to advance the checklist from your wrist. Get the watch app here.
MyRadar View detailed weather radar imagery, current weather conditions and a 5-day forecast. Get the watch app here.
NRST This is a must-have for pilots flying with the Apple Watch. It continuously displays the direction and distance to nearby airports, along with a navigation instrument to guide you to a selected airport and descent planning data based on your current groundspeed. Get the watch app here.
Plane Finder This app is perfect for real-time tracking of airline flights and includes stats on arrival and departure information. Get the watch app here.
PlaneWatcher Track nearby aircraft on an interactive display on your watch, which auto-orients based on the direction you're facing (read our full review of the watch app here). Get the watch app here.
SkyTimer Use this app's elegant interface on your iPhone and Watch to manage fuel while en route and receive alerts on when to switch tanks. Get the watch app here.
Sporty's E6B Compute common aviation conversions right from your wrist, including temperature, pressure, fuel, distance and time. Get the watch app here.
StationWeather Pro This nicely-designed weather app provides quick access to METARs, TAFs, NOTAMs, and weather charts. The new watch app provides the same visuals on the small screen, along with custom METAR complications that can be added to your home screen. Get the app here.
Stratus Insight This is the most capable aviation Apple Watch app available today and offers the following features: weather radar, flight timers, digital checklists, pilot health monitoring, and nearby airport information. It also offers customizable watch face complications, allowing you to display widgets of nearby METARs and TAFs on the home watch face. Get the watch app here.
WatchMETAR Search for airports by name, city or ID, and view raw and decoded METARs and TAFs. You can also add METAR data as complications (small widgets) to the watch home screen. Get the watch app here.
Windy This offers the most aviation weather features of any watch app, including general forecasts, wind forecast, METARs, zoomable weather radar, and custom watch faces (read our full watch app review here). Get the watch app here.
Zulu Time This simple application allows you to see Local and Zulu time at a glance, or other time zones when traveling. Get the watch app here.