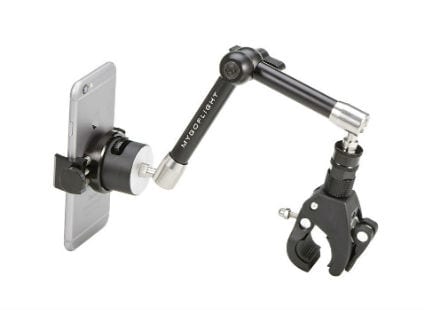 (Quelle: iPad Pilot News) 3 min read
The iPhone is finding a home in many cockpits, as pilots have come to appreciate the larger screens on these phones as alternatives to the iPad. The increased readability makes the latest iPhones a great backup option as an Electronic Flight Bag (EFB), since it's probably in your pocket already and one app subscription works on multiple devices.
What's also nice is that there is almost full feature parity now between the iPad and iPhone versions of ForeFlight and Garmin Pilot, so you can take advantage of every flight planning and in-flight weather and navigation capability on your phone in the airplane.
To give some perspective on screen size, we first mounted an iPad mini next to an iPhone Pro Max in a Cessna 182:
The iPhone Max series iPhones shown above feature a 6.7″ screen, while the regular iPhone (e.g. 13, 14, 15) incorporates a 6.1″ screen. The screen size on the iPad mini 6 is 8.3″ diagonally.
Once you decide to use your iPhone as an in-flight display, it's smart to secure it in the cockpit. In our experience the Robust series of mounts provide the best solution at the right price, so we'll start there.
The simplest and most affordable option is the Robust Universal Phone Suction Cup Mount. It will fit all smartphones up to 3.6″ wide, including the largest iPhone 15 Pro Max in a case. The kit includes an infinitely adjustable arm, heavy-duty suction cup, and quick grip clamp, and its universal design means it will likely work with your next iPhone upgrade too.
Robust also offers a Universal Phone Yoke Mount, which includes the same flexible cradle and arm, but instead uses an adjustable clamp to secure it to the yoke shaft:
This clamp also works well to secure your phone to the glare shield or a roll bar if you have that option in your airplane. You can also purchase just the clamp attachment to quickly transform your suction mount kit when needed (or just the suction cup too).
The next option to consider is RAM's Perfect Fit style, which features a fixed bottom and a semi-flexible top that snaps over the iPhone screen to hold it in place. These are extremely well-made mounts that can stand up to years of abuse. If you already have a RAM suction cup or yoke mount, it's easy and inexpensive to buy only the cradle, then add it to your existing mount. These are available for most iPhones produced over the last 5 years. Note that these mounts are form-fitting, so they will not work with a case on your phone.
For those wanting to stick with the RAM system but are looking for a little more flexibility to leave the case on an iPhone, check out the RAM X-grip mount. This is available in a small size that's ideal for almost all smartphones, and its quick-release design makes it fast and easy to remove your phone.
For MyGoFlight users, there are also some good options. The universal Phone Cradle has an expandable aluminum clamp that will fit almost all smartphones, even with a case on. If you already own a MyGoFlight mount, this is an easy way to upgrade your system. If you're new to MyGoFlight, this universal Phone cradle can be connected to either a Yoke Mount or Suction Cup option. These systems are more expensive than RAM Mounts, but they are well made and the offer more flexibility.
The complete selection of iPhone mounts is available here.