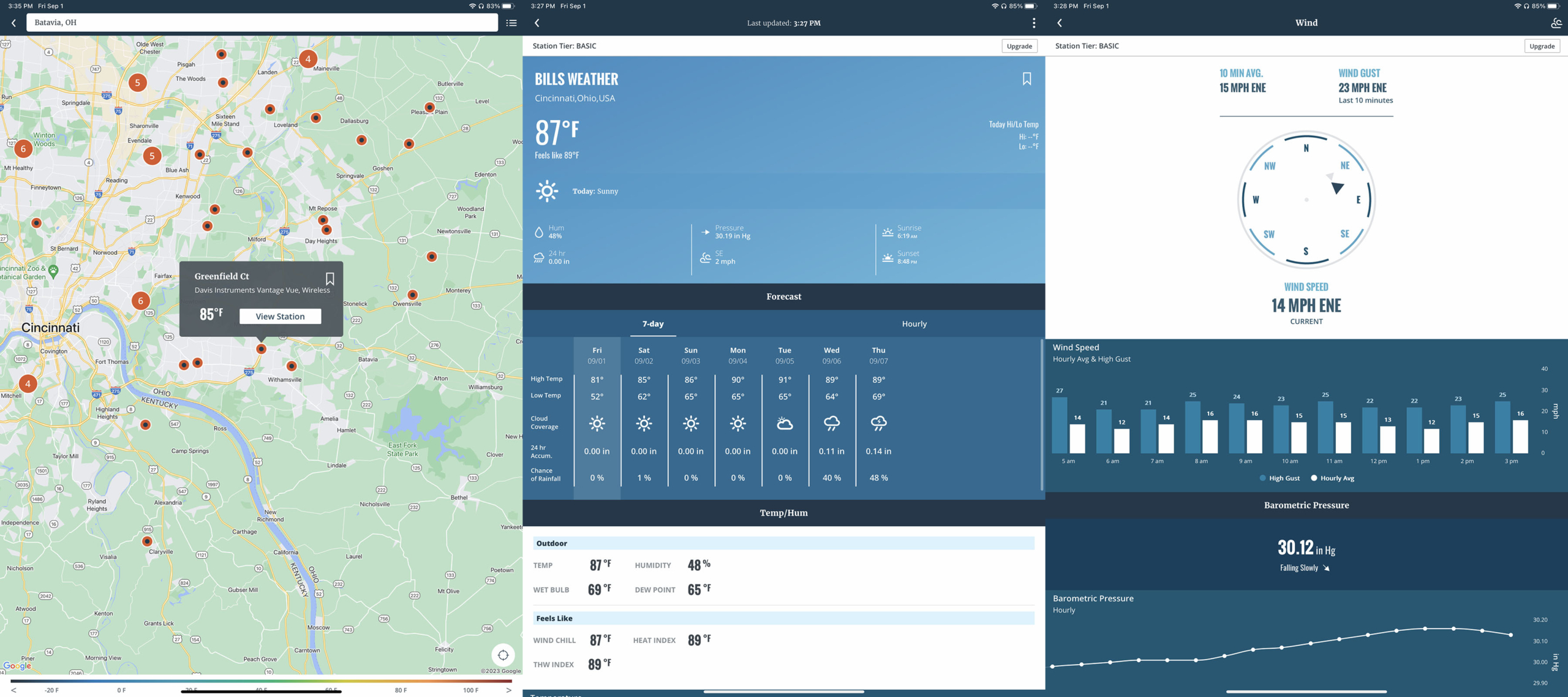 (Quelle: iPad Pilot News) 2 min read
Electronic flight bag apps like ForeFlight and Garmin Pilot have dozens of weather resources, from radar images to icing forecasts, but sometimes these familiar weather products aren't enough. That's especially true if you're flying to a remote area or even landing off-airport, where the nearest "official" weather report can easily be 100 miles away. In those scenarios, we've come to rely on websites like weathercams.faa.gov (which shows live views of mountain passes) or AnyAWOS (which shows live METARs from participating airports).
Another tool we've recently been using is the WeatherLink app from Davis Instruments. This free app provides easy access to thousands of private weather stations all across the United States. While these are not official AWOS/ASOS sensors—there is no ceiling or visibility reported, for example—they are better than nothing and are often available in many areas where no METARs exist.
The company behind the app, Davis Instruments, makes some of the finest personal weather stations we've seen and are in use at homes, businesses, farms, wineries, and even private airports. Most models include temperature, dew point, wind speed, wind direction, barometric pressure, and rainfall. Owners of these stations can view all this data on a color screen, or opt to broadcast it publicly, in effect creating a huge network of weather sensors that are accessible for free in the WeatherLink app.
The app can show Davis stations nearby or you can search for a specific location. The map also makes it easy to browse multiple stations—simply tap on one for complete details. The page for each location includes all the weather data available, and is presented in an easy-to-read graphical format. This is helpful for understanding the trend in wind speed, temperature, or barometric pressure.
The WeatherLink app isn't flawless (it only works in portrait mode on the iPad), but it's free and it opens up a whole new world of weather data. For helicopter pilots who need a wind check before an off-airport landing, or for backcountry pilots interested in the current temperature at a private grass strip, it's another tool in the toolbox. Just remember that you'll need an internet connection to get fresh data.
WeatherLink is free to download, and is available for both iOS and Android devices. The Vantage Vue Weather Station, the latest model from Davis, is available for $695.